We're still in beta, but in the home stretch. Some nifty changes in the power rankings this week.
First, the beatpath graph for Week 8. There's no change since Sunday afternoon, as NE and PIT already had beatpaths over BUF and BAL, respectively.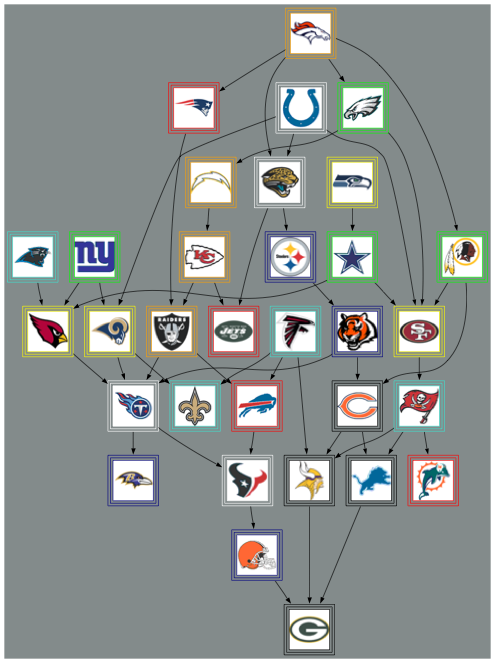 (read on for Week 8's Power Rankings)

Technorati Tags: beatpath, football, nfl, power rankings


And now for the power rankings. We might have an adjustment in the method to determine the power rankings in the next week, but it's already looking like the ranking system is pretty stable.
Rank
Team
Notes
Last Week
BeatPoints

1

(Bye) Indianapolis won't move from this spot until someone develops a beatpath over them.

1

2

(17 – 0 = 17)

2

(Beat PHI) Denver is like the beautiful psycho girlfriend. Her assets and flaws are both obvious for all to see. Denver's win over Philadelphia gives them another very long beatpath to make up for losing their beatpaths below Jacksonville.

2

1

(22 – 0 = 22)

3

(Lost to STL) Jacksonville's loss to St. Louis resulted in them losing their beatpath to Seattle. Each time a team loses a beatpath, it makes it easier for another team to develop a beatpath to them. But it hasn't happened yet, so Jacksonville holds steady.

3

6

(11 – 2 = 9)

4

(Lost to NYG) Washington's spectacular loss to the Giants blew away their beatpath to the Giants and Dallas. Expect some reshuffling as the division games heat up.

4

13

(7 – 1 = 6)

5

(Bye) The Seahawks have no beatlosses, and a beatpath to Dallas. They're well-positioned over the NFC West.

5

4

(12 – 0 = 12)

6

(Bye) The Falcons also have no beatlosses, but their wins are over teams that haven't been very impressive.

6

12

(6 – 0 = 6)

7

(Beat ARI) Holding steady at #7.

7

5

(11 – 1 = 10)

8

(Lost to DEN) The Eagles lost to a very good team, and come out of the week with a much stronger beatpath thanks to the Chargers win over Kansas City.

8

3

(15 – 1 = 14)

9

(Beat KC) A solid win over Kansas City helps the Chargers rise one slot.

10

8

(9 – 2 = 7)

10

(Lost to SD) For the first time in weeks, there is a team between San Diego and the Giants.

9

14

(8 – 3 = 5)

11

(Beat WAS) Yes it was a huge win, but they might end up wishing they had saved some of those points for other victories. I mean, look what happened to Washington.

11

7

(8 – 0 = 8)

12

(Beat MIN) Because of Tampa Bay and Miami, these next few teams all rise a couple of notches. Carolina had an impressive win over Minnesota.

14

10

(6 – 0 = 6)

13

(Beat BUF) They were supposed to get well over the Bye, and get well on Buffalo, but it still seems like they have a ways to go.

15

9

(7 – 1 = 6)

14

(Beat BAL) The Steelers beat Baltimore due to Baltimore's poor two-minute judgment.

16

11

(9 – 3 = 6)

15

(Beat GB) It's hard to fault any team for having trouble with Green Bay. Green Bay sucks, but they can still compete from time to time. Still, Cincinnati is looking mighty appropriate here in the middle of the pack.

17

15

(8 – 4 = 4)

16

(Beat TEN) They won on the road. Tennessee helped them win, but the Raiders could still sneak up on people…

18

18

(6 – 5 = 1)

17

(Beat DET) Chicago makes a clear move towards supremacy in the NFC North. They also rise an extra slot due to Cleveland's collapse.

20

21

(3 – 6 = -3)

18

(Bye) The Jets rise on the Bye, mostly because Minnesota still has to be below Tampa Bay.

22

24

(0 – 6 = -6)

19

(Beat TB) Boy, the 49ers really made out. They developed beatpaths to TB, MIN, DET, MIA, and GB. So thanks to developing a beatpath over Tampa Bay, the 49ers rise six slots…

25

19

(5 – 6 = -1)

20

(Lost to SF) And Tampa Bay drops eight.

12

20

(4 – 7 = -3)

21

(Beat NO) Tampa Bay's beatpath to Miami forces the Dolphins to sink eight slots as well.

13

25

(0 – 8 = -8)

22

(Lost to CAR) The Vikings were pushed down, not because of their loss to Carolina, but because of Tampa Bay's loss to SF.

21

27

(1 – 13 = -12)

23

(Lost to CHI) Detroit holds steady, despite the collapse of a couple of teams that leapfrogged them backwards. What's a backward leapfrog?

23

26

(1 – 12 = -11)

24

(Beat JAC) These next few teams rise a couple of slots thanks to the collapses of Green Bay and Cleveland. But it really wasn't a surprise that St. Louis won – this team is dangerous.

26

16

(6 – 2 = 4)

25

(Lost to MIA) The subjective judgments still say that Miami is better than NO – I guess they were right, although it hasn't yet become a beatpath.

27

22

(0 – 4 = -4)

26

(Lost to NE) It still doesn't seem like they belong this low, but they'll need a couple of wins to prove it.

28

23

(3 – 7 = -4)

27

(Lost to DAL) Arizona's beatlosses are still only to solid teams. Seems like they have room to rise as well.

29

17

(5 – 4 = 1)

28

(Lost to OAK) Rises two slots through no merit of their own.

30

28

(4 – 16 = -12)

29

(Beat CLE) Houston made out by defeating a team that also has another beatpath.

31

30

(2 – 19 = -17)

30

(Lost to HOU) This was probably the biggest surprise of the week. Cleveland had been rising slowly but steadily all season long. A real collapse.

19

31

(1 – 20 = -19)

31

(Lost to CIN) The graph is a really sad sight, isn't it? Green Bay sitting all alone at the bottom of the league. It's all because Cleveland lost to Houston.

24

32

(0 – 27 = -27)

32

(Lost to PIT) And, holding steady at the bottom, the team that almost beat the Pittsburgh Steelers. Hey Baltimore – when the clock is running down and it's fourth down at the end of the game, don't throw to the middle of the field, short of the first down marker.

32

29

(0 – 17 = -17)