Each week, the beatpath graph gets more interesting. There are more beatloops to obliterate, and longer beatpaths to break apart. Here's a quick look at each of the games. We'll look at each one as if it's the only game played – in reality, the combination of games will have more unpredictable effects on the graph.
First, here is the graph and the beatloops we're contending with.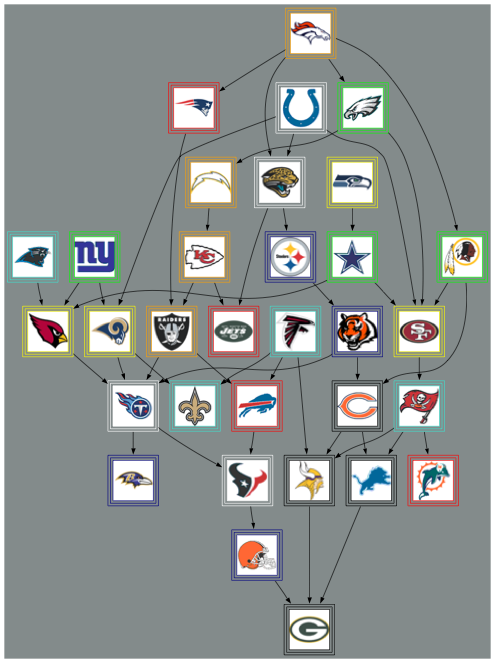 ARI=>SF=>STL=>ARI
PHI=>OAK=>DAL=>PHI
BUF=>MIA=>NO=>BUF
BUF=>NYJ=>TB=>BUF
MIN=>NO=>CAR=>MIN
NO=>CAR=>GB=>NO
BAL=>CLE=>CHI=>BAL
MIA=>DEN=>KC=>MIA
NE=>PIT=>SD=>NE
DET=>CLE=>CHI=>DET
SD=>NYG=>DEN=>SD
DAL=>SD=>OAK=>DAL
DAL=>NYG=>WAS=>DAL
JAC=>SEA=>STL=>JAC
DET=>BAL=>NYJ=>MIA=>CAR=>DET
NYJ=>MIA=>CAR=>NE=>ATL=>NYJ
KC=>WAS=>SEA=>ATL=>PHI=>KC
(read on for the game analyses)

Atlanta at Miami: This matchup should be fairly interesting for the beatpath graph. First, this won't be as simple as one team developing a beatwin to the other. The reason is because they are already in a long beatloop with the Jets, Carolina, and New England. If Miami wins, believe it or not, the MIA=>CAR=>NE=>ATL beatpath segment might re-emerge. Miami's been a very aggravating spoiler to good teams this year, so this would continue the pattern. If Atlanta wins, then the ATL=>NYJ=>MIA beatpath could re-emerge. The difference between those two beatpath segments is pretty stark. It's very much a make-or-break week for Miami in terms of their beatpath ranking. In terms of the rankings, it looks like neither team has a lot to gain, but both have a lot to lose.
Carolina at Tampa Bay: If Carolina wins, it forms a small beatloop with Tampa Bay and obliterates a couple of larger ones. As a result, Carolina gets back their beatpath over New England, which should help Carolina's outlook a lot. Interestingly, the Jets would again get credit for their win over Miami, which will hurt Miami. If Tampa Bay wins, they get a beatpath over Carolina.
Cincinnati at Baltimore: If Cincinnati wins, absolutely nothing happens to the graph. But if Baltimore wins, it blows apart the CIN=>TEN=>BAL beatpath segment, and Baltimore gets back a ton of beatpoints. The only teams with beatpaths to it would be PIT, JAC, IND, and DEN. Not bad company.
Detroit at Minnesota: The winner gets a direct beatpath to the other, both would stay very low on the graph.
Houston at Jacksonville: Remember that redundant lines have been removed from the graph. For instance, there's no point in drawing the IND=>HOU line because IND already has several beatpaths to HOU. So if HOU wins, some invisible lines would be removed. But, Jacksonville would lose its beatpath to Pittsburgh. If Jacksonville wins, there's no change in the graph.
Oakland at Kansas City: The effect on the graph should be obvious.
San Diego at the Jets: San Diego could lose credit for their win over Kansas City if they lose.
Tennessee at Cleveland: If Cleveland wins, Houston would already lose credit for their win over Cleveland last week.
Chicago at New Orleans: Some beatloops could come into play here. If Chicago wins, they get a beatpath. But if New Orleans wins, Chicago loses credit for its win over Minnesota.
Giants at San Francisco: The Giants would get a beatpath, but if SF wins, they shake off their collapse at Washington, and the Giants lose credit for their win over Arizona. I honestly think a SF win isn't out of the realm of possibility…
Seattle at Arizona: Nothing happens either way. Why? That's the brainteaser of the week. This one's easier.
Pittsburgh at Green Bay: If Green Bay wins, Pittsburgh loses their win over Cincinnati.
Philadelphia at Washington: Finally, we're at the interesting games in the top half of the graph. There's only two of them this week. However, there won't be any change in the graph if Philly beats Washington, because Philly is still hurt by their loss to Dallas. However, if Washington wins, WAS=>SEA=>ATL=>PHI re-emerges. Philly just has a lot of losses to overcome.
Indianapolis at New England: This one's pretty straightforward. The winner gets a direct beatpath to the other.