Update: Washington beat Philadelphia. And whoa, this one game made quite a difference. It also further adjusts the power rankings. Movements of more than three slots:
Up: CAR, WAS, NE, CHI, CLE, MIN
Down: DAL, PHI, ARI, NYJ, MIA
New beatpath graph and full power rankings will come out after the NE/IND game. Check out this graph!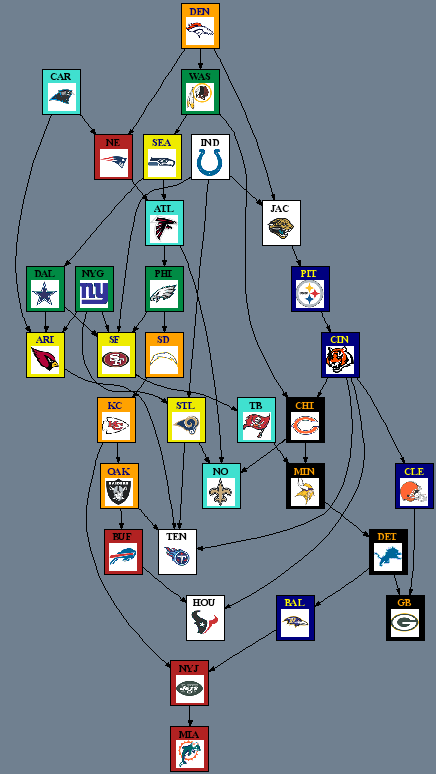 (Read on for the earlier intra-day graphs)

Technorati Tags: beatpath, football, nfl


Earlier Update: After the afternoon games, here's what seems to be going on with the power rankings, though they will be affected significantly by the last two games tonight and Monday. These final two games are huge – WAS/PHI will result in either team being two or more beatpaths below the other, with either KC or SEA advantaging from the shift. Movers of more than three slots:
Up: CAR, CHI, CLE, MIN,
Down: ARI, NYJ, MIA
Here's the graph after the four afternoon games. The graph's drawn in a different order for clarity, but there's only two differences – the Giants have a beatpath to the 49ers, and Chicago has a beatpath to New Orleans.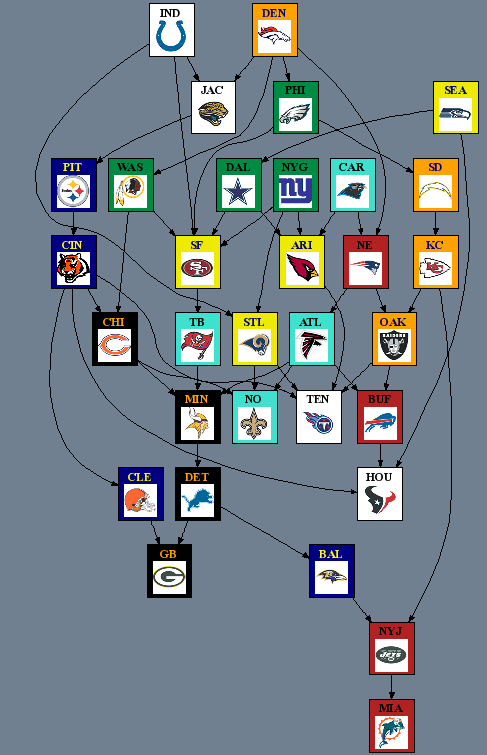 (Even Earlier):
Here's the graph after the completion of the early games. We had a couple of crazy finishes this week! The big news is that Carolina finally shakes off some beatloops and climbs dramatically. This entry will be updated as more games finish.