Here's an easier explanation of BeatPower, which is how we go from the Beatpath graph to the Power Rankings.
Take a look at the results for after Week 9 of the 2005 NFL Season: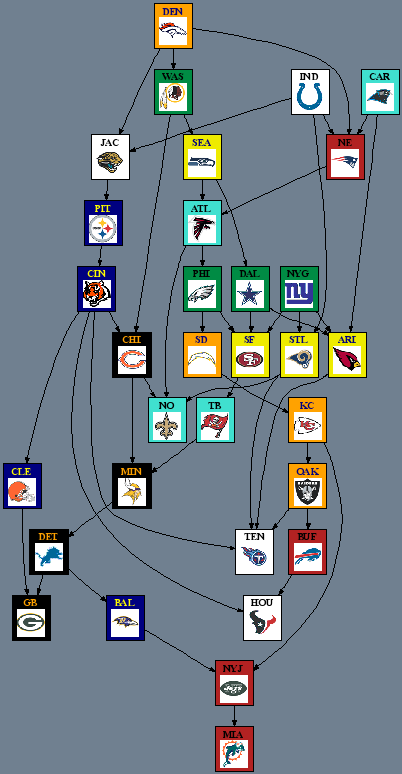 And the beatloops that were taken out of the graph:

ARI=>SF=>STL=>ARI
TEN=>BAL=>CLE=>TEN
TEN=>HOU=>CLE=>TEN
PHI=>OAK=>DAL=>PHI
PHI=>KC=>WAS=>PHI
BUF=>MIA=>NO=>BUF
BUF=>NYJ=>TB=>BUF
MIN=>NO=>CAR=>MIN
NO=>CAR=>GB=>NO
MIA=>DEN=>KC=>MIA
MIA=>CAR=>TB=>MIA
BAL=>CLE=>CHI=>BAL
NE=>PIT=>SD=>NE
DET=>CLE=>CHI=>DET
SD=>NYG=>DEN=>SD
DAL=>SD=>OAK=>DAL
DAL=>NYG=>WAS=>DAL
JAC=>SEA=>STL=>JAC
Read on for how we determine BeatPower using both sets of information.
Technorati Tags: beatpath, football, nfl


To explain BeatPower, we'll use Denver as an example.
Denver has beatpaths to 27 of the 31 other NFL teams. That's clearly pretty dominant at this point of the season.
However, Denver has lost a couple of times this season – to Miami, and to the Giants. Now, Denver is good enough that they've managed to create beatloops to those two teams, which is why the Giants and the Dolphins don't have beatpaths to Denver.
Here are Denver's beatloops: MIA=>DEN=>KC=>NYG and SD=>NYG=>DEN=>SD
To determine a team's BeatPower, you want their beatwins to count for them, and their beatlosses to count against them. You could just subtract the beatlosses (In DEN's case: 0) from the beatwins. The problem with that is that it ignores beatloops. If you ignore beatloops, Denver would be ranked ahead of Indianapolis, which isn't right.
If a team is very bad, beating a team will most likely create a beatloop before it creates a beatwin, and that's because just about every other team already has a beatpath to that team. So for a bad team, creating a beatloop is a good thing, and evidence that they're trying to improve.
The reverse is true for good teams. Losing will probably create a beatloop – not as bad as a loss, but evidence that their beatpath heap is starting to rot.
So a team with more beatloops should be pulled towards the middle of the rankings.
There's an easy way to figure this. In instances where someone suffers a lot of wins, losses, and ties, the winning percentage doesn't tell the whole story (at least, not when the total number of wins, losses, and ties varies from team to team). You have to figure in all three stats together.
So BeatPower is the number of winning relationships, minus the number of losing relationships, divided by the number of total relationships (beatloops).
Denver is in beatloops with five teams (including itself). So its BeatPower formula is (27-0)/32. Normally a possible BeatPower rating is between +1 and -1, but I normalize it to a scale of between 0 and 100 (add 1, and divide by 2). This results in a rating of 92.2 .
I am strongly considering a subtle variant of this method, which makes more sense to explain. Of Denver's four other beatloops teams (not including itself), it has managed to develop alternate beatpath routes to three of them: SD, MIA, and KC. The only one that it still has an ambiguous relationship with is NYG – when it had a chance to make it unambiguous by beating them. So in this variant, the only beatloop team that would count against Denver would be the NYG. That would make Denver's BeatPower (27-0)/28, or a normalized rating of 98.2 .
After Week 9, Denver is currently ranked #2. If I used the variant, Denver would be ranked #3, because Carolina has managed to develop alternate beatpath routes to every team that they beatloop with. Carolina ties Indianpolis with a normalized rating of 100.0, and is ranked second due to the tiebreaker of relying on the previous week's power ranking.
BeatPower will continue to have its own column in the power rankings, so you can see how it's calculated. You'll be able to see the formula in this format: (beatwins/total – beatlosses/total), where total is the sum of beatwins, beatlosses, and beatloop teams.