Time for the new Power Rankings. The big story this week centers around Philadelphia. While they didn't sink much in the rankings this week, they had a big effect on the graph, affecting San Diego and Oakland. Of course, Oakland did some of their own damage this week, indirectly to their old AFC West foe, the Seahawks…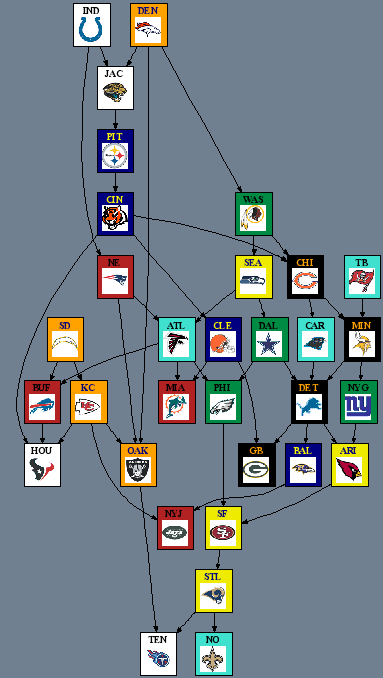 Here are the beatloops. We also finally have some splits: STL/ARI, and PIT/BAL.
DEN=>SD=>NYG=>DEN
NYJ=>MIA=>DEN=>NYJ
SF=>TB=>WAS=>SF
TEN=>BAL=>CLE=>TEN
TEN=>HOU=>CLE=>TEN
PHI=>OAK=>DAL=>PHI
PHI=>OAK=>WAS=>PHI
PHI=>KC=>WAS=>PHI
PHI=>SD=>NYG=>PHI
BUF=>MIA=>NO=>BUF
BUF=>NYJ=>TB=>BUF
BUF=>KC=>OAK=>BUF
MIN=>NO=>CAR=>MIN
ATL=>MIN=>GB=>ATL

NO=>CAR=>GB=>NO
NYJ=>MIA=>CAR=>NYJ
ATL=>NYJ=>TB=>ATL
MIA=>DEN=>KC=>MIA
MIA=>CAR=>TB=>MIA
BAL=>CLE=>CHI=>BAL
NE=>PIT=>SD=>NE
NE=>MIA=>DEN=>NE
CAR=>NE=>MIA=>CAR
CAR=>NE=>NO=>CAR
DET=>CLE=>CHI=>DET
DAL=>SD=>OAK=>DAL
DAL=>NYG=>WAS=>DAL
JAC=>SEA=>STL=>JAC
We have a new tiebreaking algorithm for the Power Rankings. In the past, I would tiebreak on beatpower, which is calculated on the number of beatwins, beatlosses, and beatloops a team has. There were two things about that that bugged me – it didn't give a sense of how stable the team's position was, and it didn't take into account the quality of the teams it beatlooped. Both are figured in now, by weighing the average beatpower of a team's beatloop teams, against the team's weighted beatpower. The most notable effect of this change is that Washington's place near the top of the graph is weakened. Raw BeatPower is below, and you can get a sense for how the beatloop adjustment affects things by how out of order the BeatPower numbers are.
Rank
Team
Notes
Last Week
BeatPower

1

(Beat CIN) All right, as a Broncos fan, this team officially scares me now. I've heard people say that if you were to draw up a team to defeat the Colts, you'd pretty much come up with the Broncos, but I'm not sure why they believe that.

1

100.0

(24/24 – 0/24)

2

(Beat NYJ) That said, the Broncos are finally starting to display some sense of a finishing instinct, which I think is one of the last qualities to emerge in a real championship-caliber team. The down side is that Indianapolis seems further along in that regard, too. The Broncos are actually a bit weakened this week due to losing a couple of teams from their beatpaths.

2

94.8

(26/29 – 0/29)

3

(Beat TEN) The Jags inherit slot #3 due to the collapse of the Redskins. I rarely get to see a Jacksonville game on TV, but it seems that every time I check their scores, they're behind or tied at halftime. Seems that could bite them soon if they don't figure out a way to put together a better start.

4

88.1

(18/21 – 2/21)

4

(Lost to BAL) Their loss to the Ravens didn't really hurt them since it just created a season split and didn't threaten their beatpaths to any other teams, through which they have alternate beatpaths to Baltimore. They climb because of Washington's fall.

7

81.8

(17/22 – 3/22)

5

(Lost to IND) Losing to the top team in the league doesn't do a lot of damage to one's ranking, but this was definitely a missed opportunity. Their offense looked really good.

8

80.0

(16/20 – 4/20)

6

(Beat NO) The Patriots lost some teams from their beatpath today due to San Diego's situation, so they don't get to climb along with the other teams.

6

80.0

(10/15 – 1/15)

7

(Lost to OAK) The Redskins haven't done so well recently, and they should probably be lower, but they have a very important beatwin over Seattle that is propping them up in the rankings. The strength of Seattle's beatpaths mean that Washington retains a high rating, but…

3

89.6

(20/24 – 1/24)

8

(Beat SF) Look out for next week, when Seattle hosts the Giants. If Seattle wins, they'll obliterate their beatloss to Washington, and blow right past them.

5

86.1

(15/18 – 2/18)

9

(Beat BUF) Surprise, the Chargers are back. Their victory was impressive, but that's not why they rose. San Diego has been suffering under their loss to Philadelphia for a few weeks now – they were getting pushed down by the Eagles (and were in turn propping the Eagles up). But this week, the Giants beat Philadelphia. Since San Diego defeated (destroyed) the Giants earlier this year, they get their beatloop and are able to do their charging thing, back up the rankings. The high quality of their beatloops gives them an extra boost.

16

75.0

(6/12 – 0/12)

10

(Beat ATL) The Bucs get a new beatloop and hold steady – they played about as well as expected.

9

84.4

(11/16 – 0/16)

11

(Beat DET) Dallas adds a couple more teams to their beatpaths, but other teams improved more. Dallas basically holds steady and gets ready for Denver.

10

71.9

(10/16 – 3/16)

12

(Beat CAR) This victory was really surprising to me, and I think it was surprising to a lot of people, but both teams were actually pretty close in the rankings last week.

12

65.8

(12/19 – 6/19)

13

(Beat HOU) No, it's not that their victory over the Texas was this valuable – although it was an impressive victory. It's more that San Diego was freed up from a very repressive beatpath, which helped KC, and Oakland, too.

21

65.0

(4/10 – 1/10)

14

(Lost to CHI) I was bothered last week that Carolina was ranked so low because of their losses to Miami and New Orleans. But their loss to Chicago is actually rather consistent with those results – Carolina just isn't all there yet.

11

55.0

(9/20 – 7/20)

15

(Beat GB) The Vikings were expected to beat Green Bay, and did (just barely). Other teams improved while Minnesota held steady.

13

55.0

(10/20 – 8/20)

16

(Lost to TB) While it was a key division game, the state of the beatloops meant that this game result didn't have a huge effect on either team. Atlanta is just a middle-of-the-road team right now, and they're acting like it.

14

58.8

(8/17 – 5/17)

17

(Beat WAS) San Diego's emergence from under Philadelphia's shadow wasn't enough to help Oakland – their defeat of Washington helped them shake off their own beatloss to Philadelphia.

24

30.0

(1/10 – 5/10)

18

(Lost to NYG) The Eagles lose their beatwins to San Diego and Oakland, and continue their slide down the rankings.

15

40.0

(4/15 – 7/15)

19

(Beat PHI) And all of that put together means that beating Philadelphia isn't all that impressive of a victory anymore. The Giants have the same beatpower as last week.

17

38.2

(5/17 – 9/17)

20

(Lost to DAL) Detroit holds steady. Hey, check out the NFC North. There are three other divisions that appear worse than them, at least if you go by the graph (which you shouldn't do).

19

40.5

(8/21 – 12/21)

21

(Lost to SD) Wow, did these guys ever get stomped, just after shutting down Kansas City. Is there that much of a gap between those two AFC West teams?

20

28.6

(1/14 – 7/14)

22

(Beat MIA) Cleveland doesn't really get helped by their win over Miami…

22

37.5

(2/12 – 5/12)

23

(Lost to CLE) But Miami definitely got hurt.

18

18.8

(0/16 – 10/16)

24

(Lost to MIN) I feel exactly the same way every time I get to Green Bay's "Notes" column. Casting about, trying to think of something good or encouraging to say. But I still have that pit feeling in my stomach.

23

6.2

(0/16 – 14/16)

25

(Beat STL) I'm tempted to see this as an impressive victory, but I think the problem is that St. Louis actually really sucks. These two teams just confuse me.

31

22.2

(4/18 – 14/18)

26

(Beat PIT) Pittsburgh has had pretty amazing strategy this season – they've lost games that just haven't seemed to hurt them all that badly. That is, assuming that their strategy actually hinges on doing well on beatpaths.com. (Billy? Zat you?)

25

12.5

(1/16 – 13/16)

27

(Lost to DEN) Wow. Just…. wow.

26

7.9

(0/19 – 16/19)

28

(Lost to KC) Houston's bad, but they do get pulled up a bit due to their beatloop with Cleveland.

29

7.1

(0/14 – 12/14)

29

(Lost to SEA) They tried to make it interesting there at the end. It was kind of painful to hear the announcer talk about their quarterback just panicking when they had the chance to tie it with the two-point-conversion.

30

14.3

(3/21 – 18/21)

30

(Lost to ARI) All those other teams that St. Louis beat now have alternative beatpaths to the Rams. It's like this team is from Oz and they just stepped out from behind the curtain.

27

9.5

(2/21 – 19/21)

31

(Lost to JAC) Tennessee has slightly better remaining beatloops than New Orleans, so they get the nod, as much of a nod as this can be.

32

5.8

(0/26 – 23/26)

32

(Lost to NE) Carolina finally develops an alternate beatpath to New Orleans, so the Saints lose the insurance of their earlier upset.

28

6.5

(0/23 – 20/23)