Time for the preview of this week's upcoming games. A lot of potential for season splits to develop this week. Splits can be exciting because it means that several beatloops could be busted, leading to old wins and losses reasserting themselves in the graph – as loops get busted, they give us a better idea of who's better than who. Here's Week 12's beatpath graph: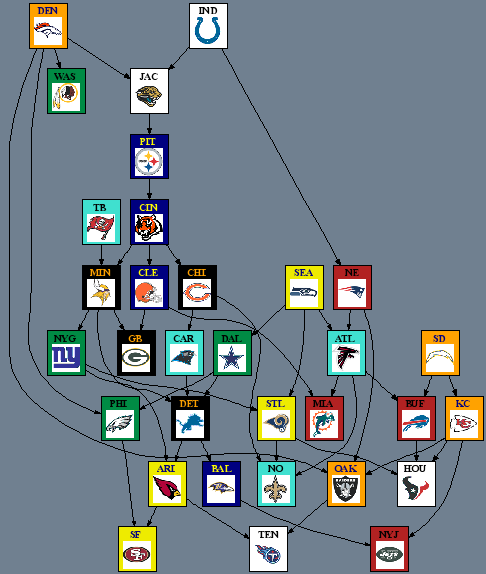 And the games:
Atlanta at Carolina: A lot of NFC South battles coming up. If Atlanta wins this one, they shake their beatloss to New England. If Carolina wins, Atlanta loses their beatpaths over Miami and New Orleans.
Buffalo at Miami: Buffalo plays for a beatpath over Miami. A Miami win busts three beatloops by causing a season split. It would restore: CAR=>BUF, NO=>BUF, and MIA=>OAK.
Cincinnati at Pittsburgh: A Pittsburgh win reinforces the existing graph, but a Cincinnati win create a season split and will help them shed their beatloss to Pittsburgh. Both teams would still have a beatwin over Cleveland.
Dallas at Giants: Dallas plays for a beatpath to the Giants. If the Giants win, the season split will bust two beatloops, restoring DEN=>DAL.
Green Bay at Chicago: If Green Bay wins, they shed their beatloss to Detroit, and Chicago loses their beatwin over Carolina. Chicago plays for a beatpath to Green Bay.
Houston at Baltimore: Believe it or not, it's a simple scenario. The teams are just playing for a beatpath over the other.
Jacksonville at Cleveland: A Jacksonville win reinforces the existing graph. A Cleveland win, however, has a major effect on the graph. JAC=>CIN=>CLE and JAC=>PIT=>CLE would both be obliterated, because the relationships between all the teams would be ambiguous. What team is hurt by this? Denver, because its placement relies on Jacksonville being considered a strong team. If Jacksonville isn't, then Denver gets exposed as a team that hasn't really beaten any extraordinary teams…
Minnesota at Detroit: A Minnesota win would reinforce the existing graph. A Detroit win would split with Minnesota, so Detroit would shed the beatloss.
Tampa Bay at New Orleans: A Tampa Bay win would basically reinforce existing beatloops, with no effect over the graph. New Orleans would shed their beatloss to Atlanta if they won, while Tampa Bay would lose their beatpaths over MIN and GB. Tampa Bay would retain its beatwin over Detroit. Tampa Bay could come out of this significantly weakened.
Tennessee at Indianapolis: A season split would remove IND's invisible beatwin over TEN. An IND win would reinforce the existing invisible beatwin. In other words, no visible change either way.
Arizona at San Francisco: An Arizona win reinforces the graph. A SF win splits with Arizona, removing Arizona's beatwin over SF.
Washington at St. Louis: These teams are actually comparable now. Washington plays for a beatpath to STL. A St. Louis win reinforces existing beatloops, so would have no effect on the current graph.
Denver at Kansas City: Denver plays for a beatpath to Kansas City. If Kansas City wins, they split with Denver and get back their beatpath over Miami.
NY Jets at New England: If the Jets win, New England loses their beatpath over Atlanta. New England plays for a beatpath over the Jets.
Oakland at San Diego: A couple of reinforced beatloops get broken if Oakland wins, so no visible effect to the graph. San Diego would reinforce an existing beatpath to Oakland if they win. No visible effect either way.
Seattle at Philadelphia: A Seattle win would reinforce an existing beatpath, so no change. Seattle could be hurt by a loss, though – they'd lose their beatwins over Dallas and Atlanta.