We've got some miscellaneous information for the end of the college football season.
First, here is the Top 40 Graph for the teams as they existed just before the bowl season. Sorry it's not very legible, I ran into a width restriction, but you can basically make the names out.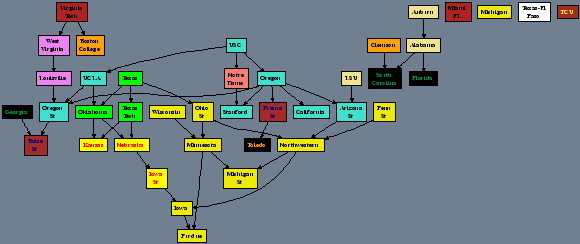 Remember that the teams that are off by themselves are only by themselves because they don't have beatwins to anyone in the Top 40. I ran it a few times just to be sure, but no matter what, I always seemed to get UCLA ranked #3. Their loss to Arizona made them lose credit for several beatwins, but they still had enough high quality wins to make them competitive with the other top teams. Their loss to USC only served to make sure they were ranked below USC. The top ten before bowl season:
USC (Score: 377)
Texas (Score: 375)
UCLA (Score: 344)
Ohio St
Texas Tech
Oklahoma
Oregon
Virginia Tech
Wisconsin
West Virginia
And here's the updated Top 40 graph after all the bowls: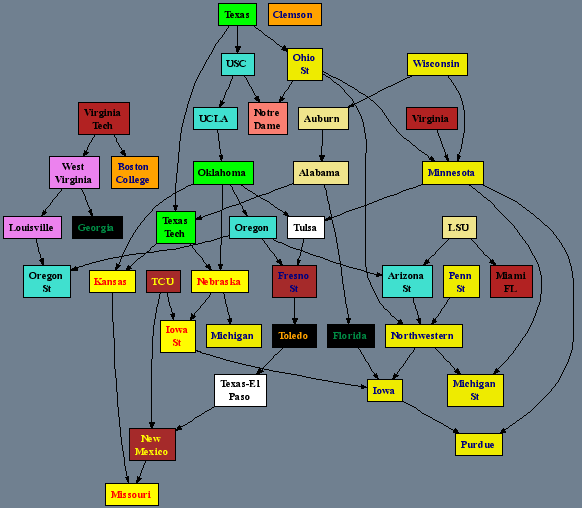 The top twenty teams after bowl season:
Texas
Wisconsin
USC
UCLA
Oklahoma
Auburn
Alabama
Ohio St
Virginia
Oregon
Minnesota
Texas Tech
Virginia Tech
West Virginia
Nebraska
TCU
LSU
Tulsa
Penn St
Arizona St
The previous week's rankings guessed right on the following:
Penn St => Florida St
Virginia Tech => Louisville
Ohio St => Notre Dame
West Virginia => Georgia (press rankings had this wrong)
Wisconsin => Auburn (press rankings had this wrong)
NC State => S Florida
UCLA => Northwestern
LSU => Miami (press rankings had this wrong)
Oklahoma => Oregon (press rankings had this wrong, Oklahoma was unranked!)
Nebraska => Michigan (press rankings had this wrong)
Boston College => Boise St
Clemson => Colorado
Arizona St => Rutgers
Kansas => Houston
Navy => Colorado St
California => Brigham Young
Southern Miss => Arkansas St
and guessed wrong on:
Texas => USC
Alabama => Texas Tech (press rankings had this right)
Florida => Iowa (press rankings had this right)
Tulsa => Fresno St
TCU => Iowa St (press rankings had this right)
Virginia => Minnesota
Missouri => South Carolina
Utah => Georgia Tech
Memphis => Akron
Nevada => UCF
Toledo => Texas-El Paso
My powerbook crapped out creating the power rankings, but I might try again and update this entry later with the extra detail.