Pittsburgh @ Cincinnati: The beatpaths were 3-1 this week, and that's not including what we said about the NE/JAC game being so close that home-field-advantage might adjust the pick. That said, I was surprised at how dominant New England was over Jacksonville, and Carson Palmer's injury was also a bit of an asterisk. While Palmer doesn't play defense, you could see the negative effect on the Bengals' offense.
Here are the two beatpath graphs.
As-is:
New England => Miami: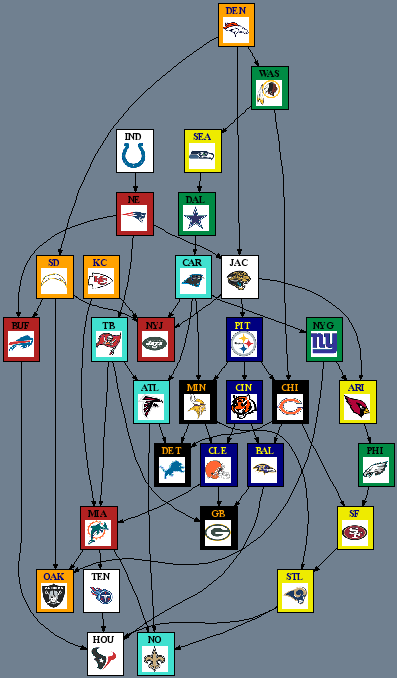 Carolina @ Giants: Well, that vindicates what the Beatpaths said about the Giants. Remember, the Week 17 rankings had the Giants in the bottom half of the league, behind Dallas, Minnesota, and Atlanta. They are just not a very good team. Despite their good win/loss record, they weren't able to develop any quality beatwins. The rankings gap between Carolina and the Giants was far more than it was between any other playoff matchup this week. Dallas definitely would have been a better NFC East playoffs representative than the Giants. In fact, they still have their beatwin over Carolina, and are still ranked ahead of them.
Updated graphs will appear after the PIT/CIN game – right now they basically look the same as the Saturday graphs, with the exception of Carolina's beatwin over the Giants.
Read on for Saturday games.

Saturday: Well, Washington more than made up for the earlier game's ambiguous two-point conversion. That was a clear fumble by Arrington near the goal line, and Tampa Bay would have recovered. Meanwhile, New England stomps all over Jacksonville. Due to the combination of wins, Miami's win over New England in Week 17 has a major effect on the graph by reasserting Carolina's beatwin over New England. We'll show both versions of the graph.
As-Is: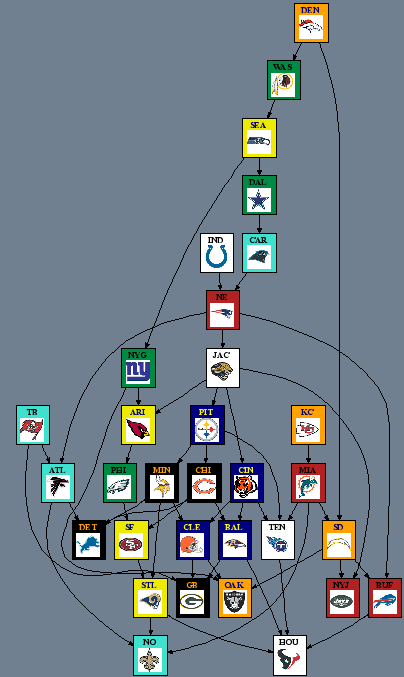 Miami Adjustment: