Time for the post-divisional power rankings. The top rankings are very defined by beatpaths this week, and not as much by tiebreakers. We'll again show the full power rankings this week, because as always, the beatpath graph is an ecology, and everything affects everything else.
Here's the current beatpath graph, with every game result taken at face value: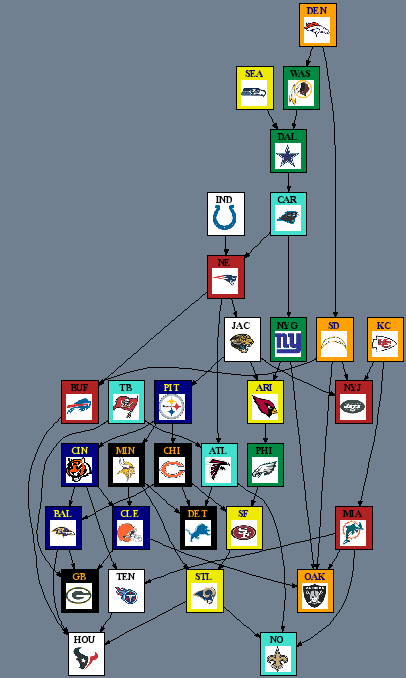 And, the rankings. At this point, there's even less reason to believe that Seattle beating Indianapolis back in Week 16 was a fluke, so I won't be reporting on that variation unless someone requests it in the comments (please specify what other game results you'd like modified, and whether you're interested in the beatflukes variant). For the rankings, we'll be looking at the as-is rankings, the rankings if NE had beaten MIA in Week 17, and the beatflukes variants of both. The main rankings are for the as-is results.
One thing that is interesting is that while the picks for the conference championship are clear, the Super Bowl pick might not be if it's Denver versus Seattle. It will depend on the tiebreaking variant, and how seriously to take Seattle's win over Indianapolis. We can look forward to discussing this next week if both teams win.
Legend:
NE: If NE had beaten Miami in Week 17
BF: Beatfluke rankings, as-is
BFNE: Beatfluke if NE had beaten Miami in Week 17.
Rank
Team
Notes
Last Week
BeatPower

1

(Beat NE) Number of times New England started a drive inside their 20: 6. Number of times Denver started a drive inside their 20: 0. New England wasn't backed up in their end because of penalties or bad calls. Denver had the tougher schedule, Denver had a better record, Denver was favored to win, Denver outplayed New England, Denver won by two touchdowns, Denver was driving for more points at the end of the game. Denver beat New England. Denver beat New England earlier this season. Denver is a better team than New England. This has been a public service announcement from a biased Denver Broncos fan. BF: #3 NE: #1 BFNE: #2

1

94.8

(26/29 – 0/29)

2

(Lost to PIT) Indianapolis still has an alternate beatpath to Pittsburgh, and they climb because Washington lost. So, the Pittsburgh win is still seen as a fluke, unless Pittsburgh wins more games. That said, there isn't a ranking variation where Indianapolis is #1 anymore, partially because Indianapolis is now dangerously close to suffering under a beatloss from San Diego. BF: #2 NE: #7 BFNE: #3

3

93.8

(21/24 – 0/24)

3

(Beat WAS) No one really knows how legitimate the Seattle over Indianapolis win was, but if it was, it helps Seattle reach the top of the rankings in the beatflukes variant. As it is, they climb thanks to shedding the beatloss to Washington. BF: #1 NE: #2 BFNE: #1

4

96.2

(24/26 – 0/26)

4

(Lost to SEA) Washington and Seattle are still both heading up a very key beatpath: DAL=>CAR=>NE=>JAC=>PIT . All variants have the teams in that order, oftentimes right in a row. Because of that beatpath, Washington is still pushed up high in the rankings. BF: #4 NE: #3 BFNE: #4

2

89.7

(24/29 – 1/29)

5

(Bye) Dallas is definitely propped up by their Carolina win. If I remove that game from the records entirely, Dallas falls to #11. But it was definitely a legitimate win, wasn't it? With both teams playing hard? Even #11 is pretty darn good – this is still the team that should have made the playoffs instead of the Giants. BF: #5 NE: #4 BFNE: #5

5

85.7

(23/28 – 3/28)

6

(Beat CHI) It seems that Carolina could have a pretty interesting effect on the beatpath graph were they to manage to beat Seattle. We'll look at that a bit later. But Seattle has the beatpath to Carolina in every variation, and is favored to win. BF: #6 NE: #5 BFNE: #6

6

82.1

(22/28 – 4/28)

7

(Lost to DEN) What's interesting is that the graphs that took Miami's win over New England seriously had Carolina ranked ahead of New England the whole time. Now all the variants agree Carolina is better. Earlier in the season, Carolina's win over New England just seemed kind of strange, but now it's turning out to be one of the keystones of the graph. BF: #7 NE: #8 BFNE: #7

7

73.3

(20/30 – 6/30)

8

(Bye) Jacksonville still has their beatwin over Pittsburgh, which keeps them anchored in the top ten. But, I believe this game was when Big Ben was out. So what happens if you remove this game from the records? BF: #8 NE: #9 BFNE: #8

8

70.0

(17/25 – 7/25)

9

(Beat IND) The answer to that is that Pittsburgh would merely climb to #7, just ahead of New England, and Jacksonville would fall to #9. Not a huge difference. There's not a variant where Pittsburgh is favored to beat Denver, so Denver is clearly favored to win. BF: #10 NE: #10 BFNE: #9

9

61.4

(13/22 – 8/22)

10

(Bye) KC's placement is still considered kind of ambiguous – like we've seen earlier this season, sometimes a team has two identities, and the team is on the razor's edge of one personality becoming dominant. At this point, the poor performance of some of the playoff teams is making it seem like Kansas City would have been a better representative. But it's not clear. BF: #11 NE: #17 (!) BFNE: #10

10

68.8

(6/16 – 0/16)

11

(Bye) The Giants have ended up looking not so weak after all, due to Carolina ending up a strong team. At this point it appears that perhaps all three NFC East teams should have been in the playoffs, with Tampa Bay being the odd team out. But that's hindsight logic, and it's moot since they both would have been favored to lose early anyway. BF: #12 NE: #11 BFNE: #12

11

55.9

(7/17 – 5/17)

12

(Bye) BF: #13 NE: #14 BFNE: #13

13

61.8

(4/17 – 0/17)

13

(Bye) Kind of strange, huh? This is how their wins and losses shook out. If their personnel situation were a bit more stable, this might augur good things for them in the future. BF: #14 NE: #16 BFNE: #15

14

38.2

(5/17 – 9/17)

14

(Bye) San Diego has a more extreme split-personality case than Kansas City. Due to their quality wins over both NE and IND, they shoot way up in the rankings if we assume NE would have beaten MIA in Week 17, by giving them their beatwin over Indianapolis. However, the beatfluke variants moderate this out, even with the changed NE/MIA result. It's again the picture of the team that is occasionally brilliant, but rather bad and undisciplined overall. BF: #18 NE: #6 BFNE: #17

18

60.0

(4/15 – 1/15)

15

(Bye) Miami was a similar team to San Diego this year, but a couple steps worse overall. In a twisted way, it makes sense that they beat San Diego. But most of their ranking advantage here is because of the Week 17 win. BF: #9 NE: #24 BFNE: #24

12

59.4

(4/16 – 1/16)

16

(Lost to CAR) I didn't watch this game. Seems like Chicago was able to keep it close at a few points, but was ultimately just overwhelmed. It was the clearest pick of the playoffs that they would lose. Their ranking is unchanged since the result was expected. BF: #16 NE: #15 BFNE: #16

16

45.5

(7/22 – 9/22)

17

(Bye) The Vikings are still considered very close in quality to the Bears. BF: #17 NE: #13 BFNE: #14

17

46.0

(7/25 – 9/25)

18

(Bye) They just keep falling in the rankings, as if it were all smoke and mirrors. However, this is impacted by the MIA=>NE win. Still, at this point it looks more like PIT and KC might have been the better playoff representatives, pushing CIN out… but only just barely. BF: #15 NE: #12 BFNE: #11

15

43.8

(6/24 – 9/24)

19

(Bye) BF: #19 NE: #19 BFNE: #18

19

33.3

(2/18 – 8/18)

20

(Bye) BF: #21 NE: #22 BFNE: #20

20

34.2

(4/19 – 10/19)

21

(Bye) BF: #20 NE: #21 BFNE: #21

23

33.3

(1/21 – 8/21)

22

(Bye) BF: #22 NE: #20 BFNE: #22

21

26.3

(2/19 – 11/19)

23

(Bye) BF: #23 NE: #18 BFNE: #19

22

27.5

(2/20 – 11/20)

24

(Bye) BF: #26 NE: #25 BFNE: #25

24

25.0

(3/20 – 13/20)

25

(Bye) BF: #25 NE: #23 BFNE: #23

26

22.2

(0/18 – 10/18)

26

(Bye) BF: #24 NE: #28 BFNE: #28

25

22.5

(1/20 – 12/20)

27

(Bye) BF: #27 NE: #26 BFNE: #26

27

19.0

(0/21 – 13/21)

28

(Bye) BF: #28 NE: #27 BFNE: #27

28

13.9

(2/18 – 15/18)

29

(Bye) Always #29.

29

12.5

(0/20 – 15/20)

30

(Bye) BF: #31 NE: #30 BFNE: #30

30

11.9

(0/21 – 16/21)

31

(Bye) BF: #32 NE: #31 BFNE: #32

31

10.0

(0/25 – 20/25)

32

(Bye) BF: #30 NE: #32 BFNE: #31

32

2.1

(0/24 – 23/24)