Well, Denver sure got beat. As good as Denver's defense is, they were dominated by Pittsburgh's offense for a huge portion of the game, and I'm not really even sure how Denver needs to improve their defense to not let that happen again. Pittsburgh's third down conversions just killed them. That said, how they reacted in the second half showed me some glimpses of just how good Denver really is (was), that I think had been taken for granted. If not for some impatience, which I think came from Denver's lack of experience in playing from behind, Denver could have had more of a shot. Those two interceptions were forced passes when they didn't have to be. I hope Denver gets some more experience next season in generating success from players imposing their will, rather than just from great coaching schemes.
I live in Seattle territory, but I'm having a hard time becoming a fan – I might find myself cheering for Pittsburgh at the Super Bowl.
Here's the beatpath graph for after the conclusion of the games. It's much the same, except for Pittsburgh shedding its last beatloss.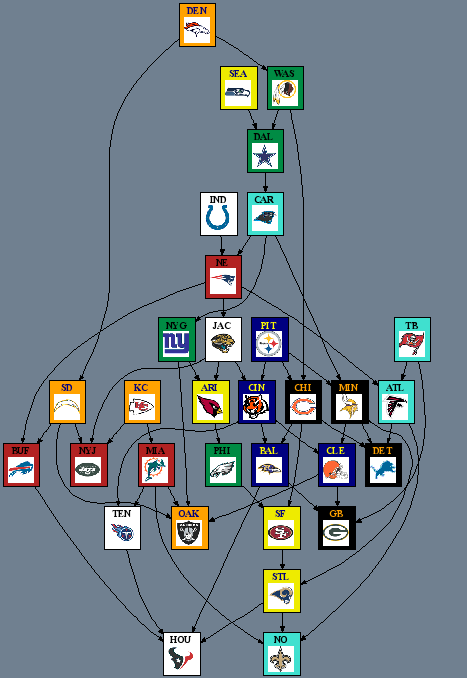 Under the normal beatpath scheme, Pittsburgh would have no shot at getting the #1 slot from winning the super bowl. But, this is where the beatflukes variant appears more accurate, once again. For those who are unfamiliar, here's how the beatflukes variant is different: If a beatloop exists, but a portion of the beatloop is contradicted by one team having a beatpath to the other, the beatloop is broken there, and the resultant segment is applied back into the graph. For example, if A=>B=>C=>A, but C has a beatpath to B, then C=>A=>B becomes a valid beatpath.
The reason the beatflukes variant has been in beta all season is because there is still some question on the ordering of evaluating beatloops – but it has been slightly more accurate all season long. Here is what the beatflukes variant of the graph looks like after the conclusion of the Conference Championship games: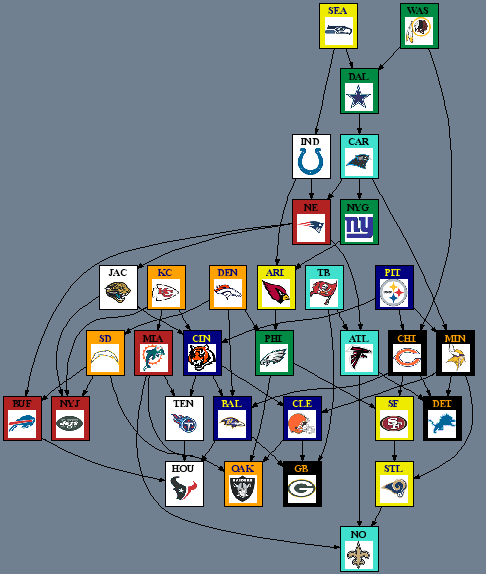 In the beatflukes variant, Pittsburgh is ranked ahead of Denver, but not Indianapolis. But if Pittsburgh beats Seattle, they'll be ranked #1.