The official picks were a horrid 7-7 this week. These were the picks from 2005-2006 combined, and they were actually outperformed by the picks that came from 2006 only. Since we're through the first four weeks of the season now, we will be continuing with 2006 only for the rest of the season – hooray! For the season, we are 35-25, or tied for 12th in King Kaufman's Panel O' Experts.
So without further ado, here are the two beatpath graphs. First, the beatpath graph for 2005-2006 combined: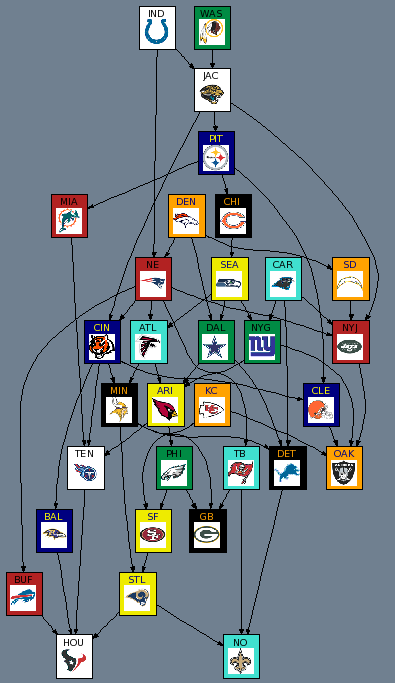 But more relevantly and more interesting, here is the beatpath graph for 2006 only. The interesting news – we have two new beatloops: ATL=>CAR=>NO=>ATL and DAL=>WAS=>JAC=>DAL. So all those victories are canceled out of the graph. More interesting: there was originally a beatloop of ARI=>SF=>STL=>ARI, but St. Louis found an alternate beatpath to San Francisco since San Francisco is playing so poorly, so it's our first "beatfluke" of the season. STL=>ARI=>SF is restored to the graph.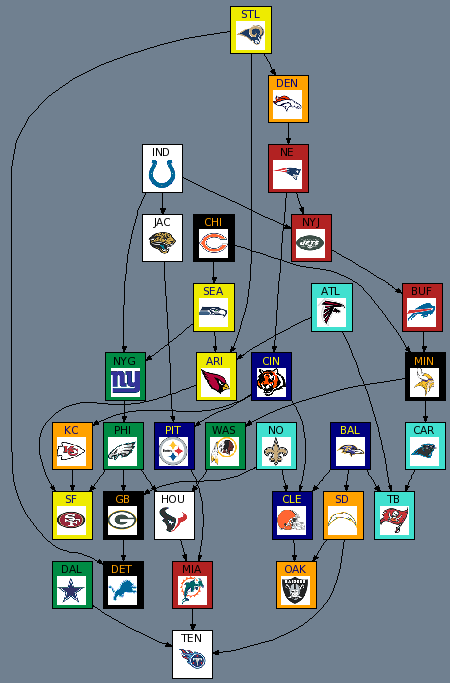 The upcoming power rankings might look funny to people, but that is what is cool about this system – it reflects the power rankings for the teams as they have actually played so far this season. In other words, the power rankings for 2006 only (posted later this week) are the most accurate power rankings possible for reflecting the game outcomes for this season so far – a combined record of 56-4!