I was bored tonight so I plugged in the entire Major League Baseball season for 2007.
I don't follow baseball at all, so you baseball nuts will have to tell me how this looks. This is the season-ending beatpath graph and power rankings, using the same system I use for the NFL. It includes the Rockies' playoff win over the Padres. Does it look about right? I haven't even looked at the standings. What about it is interesting?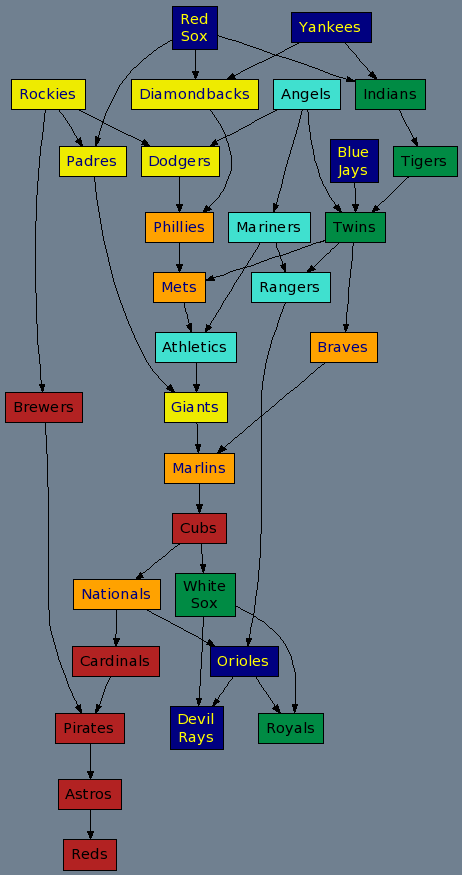 About the power rankings… ignore the "Last Week" column – that's actually just the team names an arbitrary order that I pasted from some website.
Rank
Team
Notes
Last Week
BeatPower

1

Red Sox
(Bye) I actually have the Red Sox flat-out tied with the Yankees for #1, and the only reason the Red Sox are ranked ahead is because their team name was listed first in that arbitrary listing I typed in. So… an entire season, and the Red Sox and Yankees are flat-out tied.

18

90.7

(22/27 – 0/27)

2

Yankees
(Bye) I think I used to be a Red Sox fan ahead of a Yankees fan (my New York team was the LA Dodgers)… but aren't the Red Sox just another multibajillionaire behemoth now anyway?

19

90.4

(21/26 – 0/26)

3

Indians
(Bye) Seriously, from here on down I'm not even sure who has made the playoffs. I know the Rockies… Diamondbacks… Angels?

23

82.0

(18/25 – 2/25)

4

Rockies
(Beat Padres) Considering I'm a Broncos fan, you'd think I'd know more about this… I suppose I'm vaguely thrilled, though… and I did see that hilight of that guy almost touching home plate against the Padres. Looks like it hurt. Oh… I actually have the Rockies and Angels tied.

13

87.5

(18/24 – 0/24)

5

Angels
(Bye) Rockies and Angels are tied.

27

90.0

(20/25 – 0/25)

6

Tigers
(Bye) …

24

78.0

(17/25 – 3/25)

7

Diamondbacks
(Bye) Diamondbacks and Dodgers are tied…

12

79.5

(15/22 – 2/22)

8

Dodgers
(Bye) Dodgers and Diamondbacks are tied…

14

79.5

(15/22 – 2/22)

9

Phillies
(Bye) …

4

65.4

(14/26 – 6/26)

10

Mariners
(Bye) …

29

77.1

(14/24 – 1/24)

11

Padres
(Lost to Rockies) …

15

73.8

(12/21 – 2/21)

12

Blue Jays
(Bye) …

21

82.7

(17/26 – 0/26)

13

Twins
(Bye) …

26

70.8

(16/24 – 6/24)

14

Mets
(Bye) …

3

53.6

(13/28 – 11/28)

15

Athletics
(Bye) …

28

48.1

(12/26 – 13/26)

16

Braves
(Bye) Braves and Giants are tied…

1

57.7

(11/26 – 7/26)

17

Giants
(Bye) Giants and Braves are tied…

16

42.9

(11/28 – 15/28)

18

Marlins
(Bye) …

2

37.5

(10/28 – 17/28)

19

Cubs
(Bye) …

6

34.5

(9/29 – 18/29)

20

Nationals
(Bye) …

5

27.8

(7/27 – 19/27)

21

Rangers
(Bye) …

30

36.1

(3/18 – 8/18)

22

Brewers
(Bye) Brewers and Cardinals are tied.

9

55.0

(3/20 – 1/20)

23

Cardinals
(Bye) Cardinals and Brewers are tied.

11

16.0

(3/25 – 20/25)

24

Pirates
(Bye) …

10

11.5

(2/26 – 22/26)

25

Orioles
(Bye) Orioles and White Sox are tied.

17

10.4

(2/24 – 21/24)

26

White Sox
(Bye) White Sox and Orioles are tied.

22

16.0

(2/25 – 19/25)

27

Astros
(Bye) The last four teams are basically tied for worst, with the exception of the Astros definitely being better than the Reds.

8

7.7

(1/26 – 23/26)

28

Devil Rays
(Bye) …

20

2.1

(0/24 – 23/24)

29

Royals
(Bye) …

25

5.8

(0/26 – 23/26)

30

Reds
(Bye) …

7

2.0

(0/25 – 24/25)