We have a more collapsed graph this week, due to upsets breaking some long beatpath chains. More teams with no beatlosses, too – Denver loses two beatwins due to their loss to Baltimore, and has a much more precarious position atop the graph this week.
Beatpaths and ITB were 8-5 this week, while Isaacson-Tarbell was 7-6 due to picking the NY Jets. All five upsets were BeatPicks, meaning a slew of new beatloops, and a record of 5-5 for the week. BeatPicks are now 20-8 for the season.
This week's rankings considers the following games flukey, meaning the rankings contradict them. In general, Houston and the NY Jets are balanced on the head of a pin, and for this week anyway, the system is looking at Houston optimistically and the NY Jets pessimistically. As in past seasons, we can expect the perspective on inconsistent teams to bounce back and forth as the season goes on.
WAS->STL->DET
SF->ARI->HOU->CIN
BUF->NYJ->HOU
SEA->JAC->HOU
OAK->PHI
BAL->DEN
NYJ->NE
CHI->PIT->MIN
CAR->ARI->NYG->DAL
Beatloops are listed after the jump. Here's the Week 8 Beatpath Graph.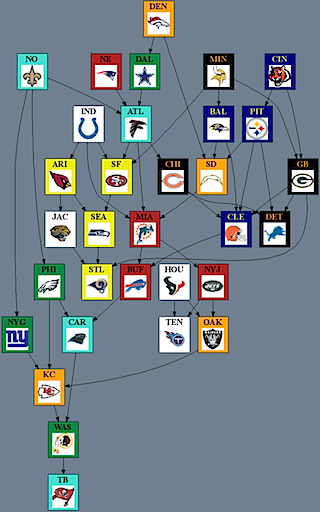 WAS=>STL=>DET=>WAS
ARI=>HOU=>SF=>ARI
HOU=>BUF=>NYJ=>HOU
NYG=>OAK=>PHI=>NYG
BAL=>DEN=>CIN=>BAL
BAL=>DEN=>NE=>BAL
BUF=>NYJ=>NE=>BUF
GB=>CHI=>PIT=>MIN=>GB
ARI=>NYG=>DAL=>CAR=>ARI
JAC=>HOU=>CIN=>CHI=>SEA=>JAC